Whether it's a shirt, pant, hat, pen, or other, share your Christian faith with these products available for sale or donation. Email us to order yours today!
"Jesus Matters" t-shirt design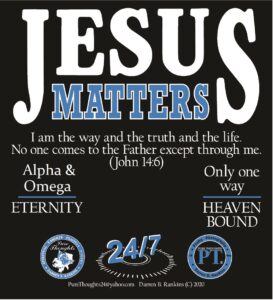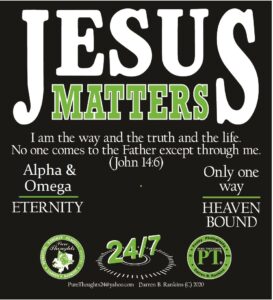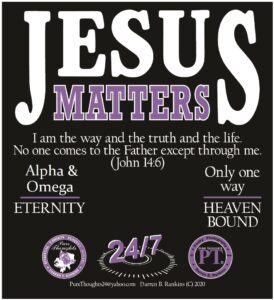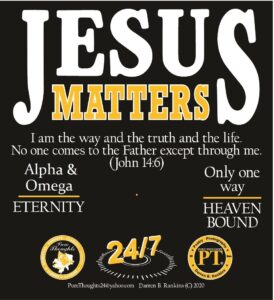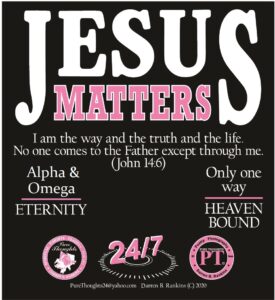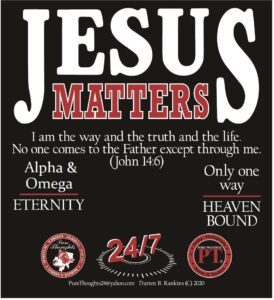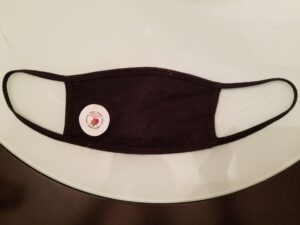 "There's Power In The Name Of Jesus" t-shirt design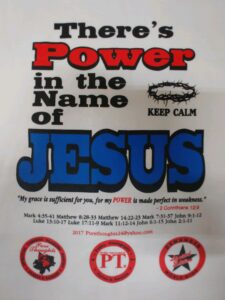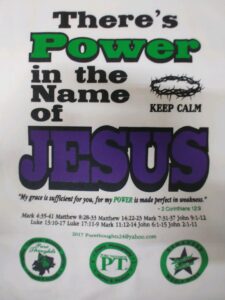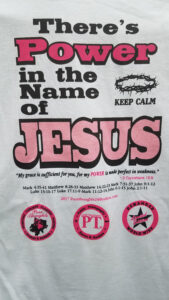 "Keeping The Faith" t-shirt design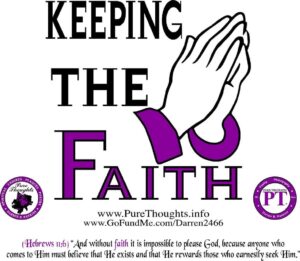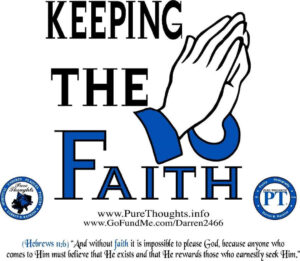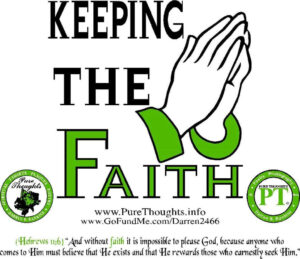 "Don't Lose The Faith" t-shirt design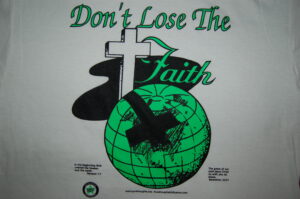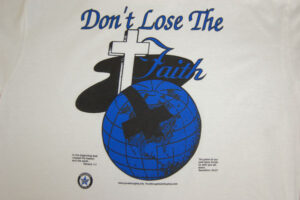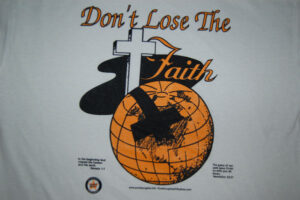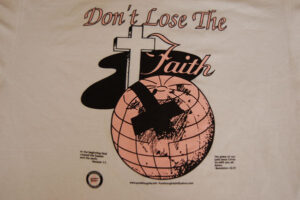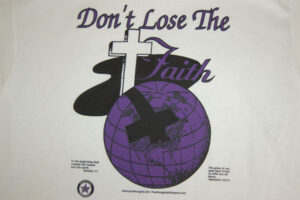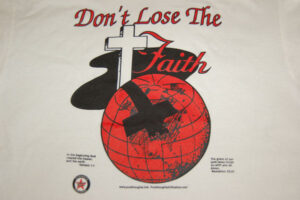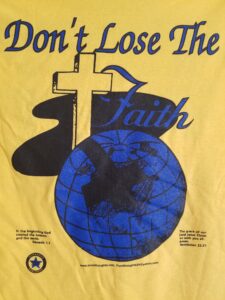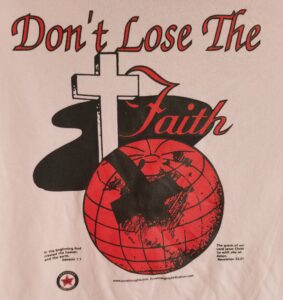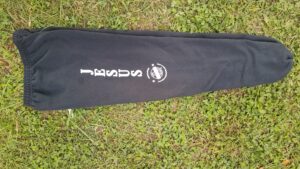 "Jesus 24/7" t-shirt design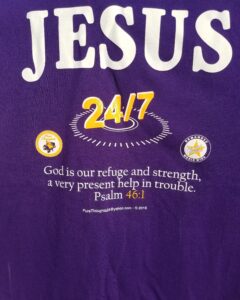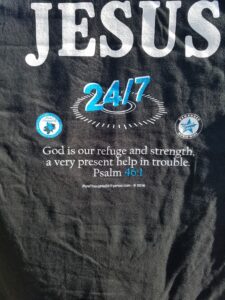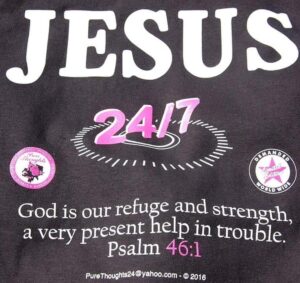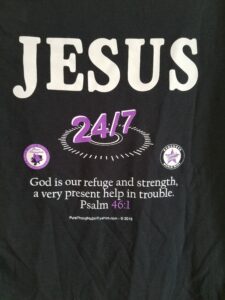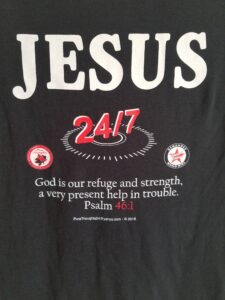 "Jesus 24/7" sweatshirt design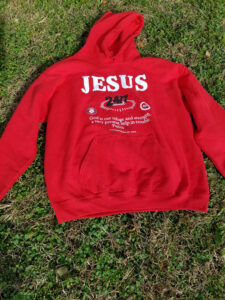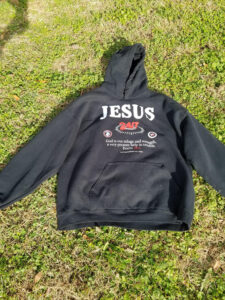 "Focus On Jesus" t-shirt design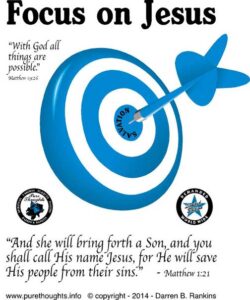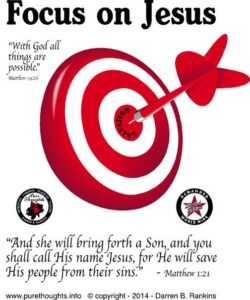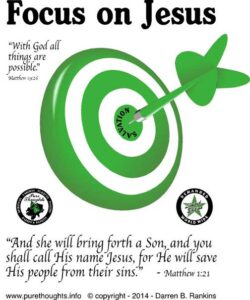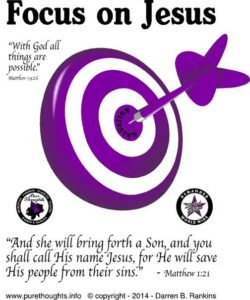 "Heaven and Earth" t-shirt design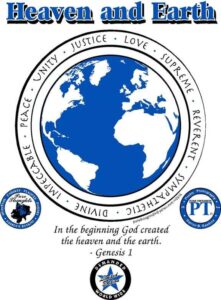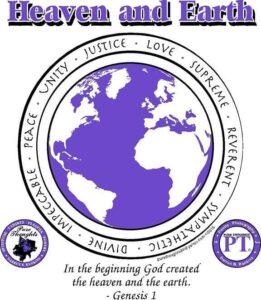 "Jesus Is Not A Playerhater" t-shirt design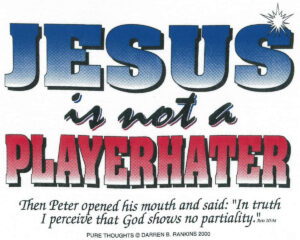 "Ephesians 6:11" t-shirt design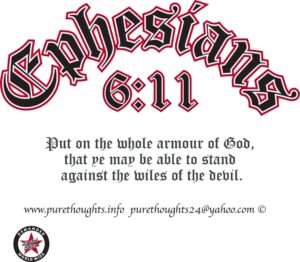 "Virtuous Woman" t-shirt design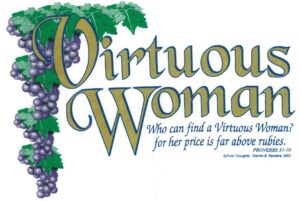 "Exit 66: Proverbs 3: 5-6" t-shirt design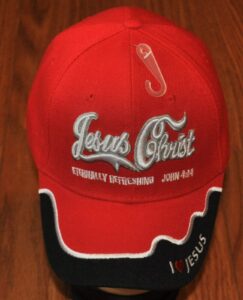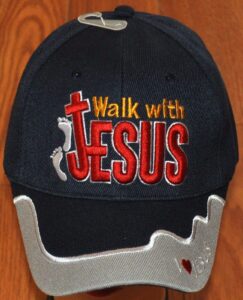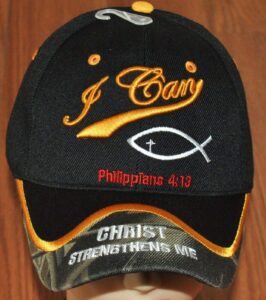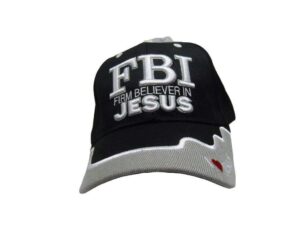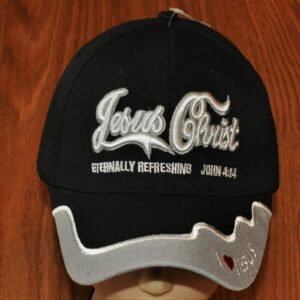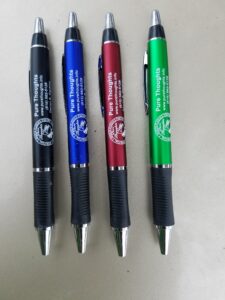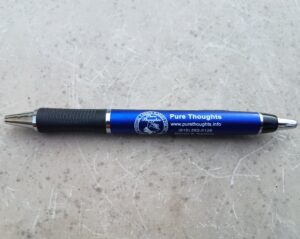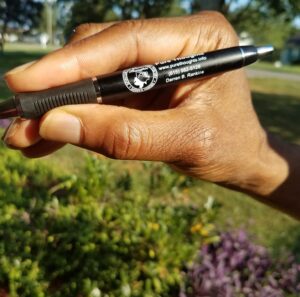 Darren has been writing poetry, songs, and short stories since third grade. He enjoyed attending poetry competitions while in college. Pure Thoughts Volumes 1-4 are four of his published, inspirational books. Darren's books can be found in several libraries worldwide. His poetry has also been published in several magazines, chapbooks and newspapers.
​​Darren receives his inspiration from the Holy Spirit which influenced him to put his first book on CD. The books are short stories and inspirational poetry which are all part of Darren's testimony that God lives and directs our lives on a daily basis.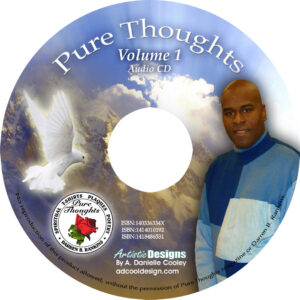 Email us to check size and style availability.
Email us detailing which product you are interested in, name of design, size, and color. Our email address is [email protected].
Select one of the Payment Options below to pay for your order. Be sure to include the s/h (shipping & handling) where noted. Be sure to include in the notes field which product/s you have ordered.
Select one of the Payment Options below to send a donation. We appreciate it!
The Day I Died
Don't look at me as if I were dead,
just think of me resting in bed.
Now cover me with eternal life
and place my favorite flowers upon my head,
and if the night shall pass
and you miss holding my heart in your hand,
just make a wish upon the nearest star
and there I'll stand.
Now take all my worldly possessions
and give them to the needy
because my riches now lie with God.
Now sing me a love song as I walk down this lonely road, and please don't worry because
my Lord waits with opened arms.
Darren B. Rankins
©1995 Pure Thoughts
A Letter to the Lord
Dear Lord, can I have a minute of your time, while I sit here looking up into the heavens?
Lord, from my crib, growing into my career, sometimes I feel like I am in this world alone without anyone to comfort me in my hour of need.
Alone, abandoned–my mornings are without a child's cry or the smell of bacon in the air.
Lord, I just don't know sometimes.
Evenings I find myself staring out my window into empty space–no birds, no flowers, not even a cloud in the sky.
I wonder if I will ever see you again.
Nights are spent not knowing what tomorrow will bring.
But Lord, don't you know, since the day I accepted you as my Savior, I know tomorrow will be a brighter day.
Darren B. Rankins
© 1996 Pure Thoughts
The Memories of Yesterday
The memories of yesterday were the times we played, the days I came around just to see the smile on your face and how your smile told me why the sun shines.
The memories of yesterday were the rainbows that I could never express, the way you made me feel. But to me, you were a living soul.
The memories of yesterday are like thoughts today–loving, holding, and waiting to be with you, knowing all my dreams will come true.
The memories of yesterday remind me of the last day I spent with you, I cried for the simple reason that I cared. Please remember me always. Your loving friend.
Darren B. Rankins
©1996 Pure Thoughts
Freedom
F-frustration must be controlled
R-refusing to give up
E-evaluate before making a move
E-enrich thyself with positive thoughts
D-demonstration is a must
O-oppression comes with each great struggle
M-mankind must learn about unity
Freedom is a fight till the end
Darren B. Rankins
© 1995 Pure Thoughts
In Open Arms
He who stood on Galilee,
so should I.
When storms are beside me,
I will not lose my focus.
When I am troubled, and as my heart
melts away into an evening sunset,
I will kneel to pray.
When praying in Jesus' name,
the darkness exists no more.
For now, I stand on holy ground,
with my Lord in open arms.
Darren B. Rankins
©1996 Pure Thoughts
For A Special Someone
How does one express his love
for one as lovely as you?
A heart that was shattered
by the thoughts of yesterday,
Which could be repaired by the emotions of today.
For so long I have imagined soaring
toward a heavenly place
that only existed deep within my mind.
Your loving ways are rare,
trapping my deepest desires.
How can one such as I,
have any impact on a beautiful rose
surrounded by rainbows?
I will embrace thee for a lifetime.
I give you my heart, trust, and warmth,
but sometimes that's just not enough,
for I will always love you.
Darren B. Rankins
©2000 Pure Thoughts
Without Your Love
The autumn leaves that descend upon my heart
soon blanket the world with despair.
Free from compassion, love,
and forgiveness, a sweet goodbye.
A perfect picture of a darkened sky and a
graveyard of lost souls without a way home.
Trying to distance myself from the screams, crying,
and pleading for the touch of another heart.
Please tell me–without your love, the touch of
your hand, and the sound of your voice,
I am lost deep within the prison of my soul.
P.S. A shout out for your love.
Darren B. Rankins
©2000 Pure Thoughts